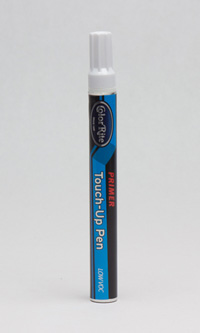 Touch-Up Pen Primer
SKU # : TFCPrimer
Vendor : ColorRite
Manufacturer :
Your Price : $11.95
The ultimate convenience of ColorRite's touch-up primer pen is the quick access you have to high quality primer, ready for use when minor coverage failures occur. If you have to mend damage to your motorcycle's paint, you probably need to consider fixing the primer beneath too. In pen form, the primer has a shelf-live of up to seven years, so it makes a certain bit of sense for riders to keep one or two ready for road wear and interaction with flying debris, as well as the unfortunate result of too-close calls with zippers, tools and other dingtastic elements.
A layer of primer is essential for the color coat to bond with your bike, and color bonds best with primer. If your scratch or rock chip are significant, you'll need to build up the hole with a layer of base coat anyway, otherwise you'll see a little notch where the color coat isn't as high as color + primer. That primer layer also helps the color paint stay stuck to the bike's body, so your repair will last as long as the original paint.
Be sure to have ColorRite primer pens ready for when the inevitable chipping and scratches do sad things to your motorcycle's colors. If you've been using ColorRite paints, it's especially important to have ColorRite touch-ups, because ColorRite products are designed to work with ColorRite products, and none other.
WARNING
: Cancer and Reproductive Harm -
www.P65Warnings.ca.gov
.