Delivering Quality for Over 25 Years
ColorRite is the leading provider of paint for your motorcycle, personal watercraft, snowmobile, ATV, or outboard engine. Known for a spot-on-match for your vehicle, ColorRite has been recommended by thousands of motorcycle dealers and enthusiasts since 1988. We offer a variety of paint products for your touch-up needs; each filled with the absolute, highest quality O.E.M. paint available.
Whether you need to repair small dings or chips, or re-spray your entire vehicle for a return to new, ColorRite can help. We manufacture paint for models going back as far as 1990, and can provide exact factory colors for some vehicles built as long ago as the 60's. If there's a specific color you need and you can't find it here, drop us a line and we can probably find it for you.
ColorRite offers motorcycle paint, watercraft paint, marine paint, ATV/UTV paint and snowmobile paint for just about any brand vehicle you own. All of our colors are available in touch-up pen, touch-up jar, aerosol, ½ pint, pint, and quart sizes for your larger jobs. ColorRite is committed to your achieving results, staffing a dedicated team of specialists to support you.
ColorRite – delivering quality for over 25 years.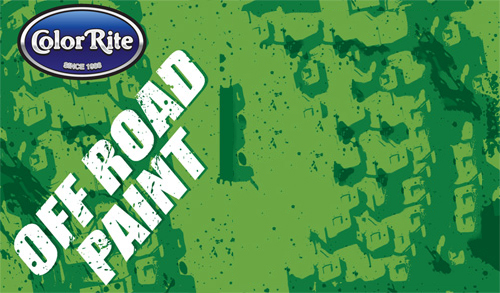 Buy 12 Offroad Paint Aerosol, get free shipping!
Mix and match colors if you would like
Call in orders only (800) 358-1882