Color Paint Products
Color Products
The color is the core of your paintjob. ColorRite can make it perfect. With manufacturer-approved matches and perfectly aligned hues, the factory-correct colors that ColorRite has formulated will line up with your OEM paint, and can deliver top-shelf performance that betters original-equipment quality, depth and luster. This is good stuff.
Available in enough sizes to go into business for yourself, ColorRite's line of industry-idealized paints can be picked up at www.ColorRite.com in volume containers from pint to quart, in aerosol form and packaged for touch-up with a brush or pen. Need to paint a complete motorcycle, jet-ski, quad, scooter or whatever else? Do you just want to shoot a new fender or repaint the tank? The quantities you'll have to have can be had here.
Don't forget to shop beyond the color - you'll need ColorRite primer and ColorRite clearcoat to ensure your selected color comes up aces. Using one manufacturer's product from base-coat to buff-out is the best way to ensure that all the chemicals involved function as intended. Only ColorRite paints are formulated specifically to work with other ColorRite paints, and you can find them all here.
---
1/2 oz. Touch Up Pens
Do you have a zipper scratch on the tank? A nasty chip where your boot kicked the fairing? Did something pointy on a high shelf get too cozy with gravity and land on your bike? When the damage is obvious but not more than skin-deep, ColorRite's urethane paint pen is ideal.
Identical to your factory color, the paint pen is designed to be a portable, convenient applicator of your choice in motorcycle color (or quad, or scooter, or jet-ski). ColorRite's paint pens can be filled with whatever high-quality color you require. The pen tip is chisel-shaped, in the same fashion as most permanent markers, and can be used for close-up detail work or drawn broadsides, for quicker coverage. These paint pens will last longer than you'll keep that bike - more than seven years in most cases - so keep some primer, the necessary colors and some clearcoat pens on the shelf for the inevitable encounter with minor misfortune.
You will want to start your repair with the ColorRite primer pen; it's essential when the scratch is deep enough to require build up. The next step is the color pen sold here. Allow the color to cure, chase the prepared surface with the ColorRite clearcoat, and rub it all out. You can find all of these paints in pen form on colorrite.com (each containing 1/2 ounce), available for all stages of paint repair.
It's important to remember that ColorRite spent a lot of money making sure all of our formulas are utterly compatible. ColorRite primers are ideal for the ColorRite colors applied to them, and ColorRite clearcoats cooperate perfectly with the ColorRite base colors they're sprayed onto. Don't queer the deal by cross-breeding your paintjob between two different manufacturers - stick to the system. You found the right color with ColorRite, so count on us to have everything else right too.
---
1/2 oz. Touch-up Jars
ColorRite 1/2 oz. touch-up jars are an alternative to our popular paint pens. Some people prefer a brush to fix small nicks and scratches. If you have a larger area, look to our 2 oz. bottles.

---
2 oz. Touch-up Bottles
Unfortunately, some dings are bigger than others, and sometimes that scratch is more of a rash. Whether you just prefer using a brush instead of the paint pen's chisel-tip, or you need to fix more of the pretty painted real estate on your bike than a pen can cover, ColorRite's Urethane Touch-Up Paint comes in a bottle too. It's the same high quality matching color as all of ColorRite's product, here in a two-ounce bottle that is equipped with an in-cap brush, and pre-formulated with reducer so you won't have to. You'll want to take the same steps with ColorRite's touch-up bottle as you would with a touch-up pen. Prepare deeper scratches with primer (color bonds best to your bike with primer as the initial body coat), then apply color, followed by a clearcoat. It's important to use that primer whenever possible, because it makes it so much easier for the color to cure properly, and last to use clearcoat, which without the color won't cure either. All three steps combined will do the same to protect your bike and its color as would the original factory paint.
---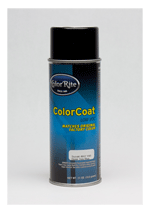 11 oz. Aerosols
The painting process takes some practice - we'll admit it - and it's important for you to work with a medium you're comfortable using. That's why ColorRite offers a complete line of urethane aerosol motorcycle paint for all of your OEM-matching needs. When you select aerosol, you've got an ultra-convenient, quick-access delivery method that's easy to approach for anyone who's shot a can of Krylon. Of course, ColorRite is much better stuff.
ColorRite's selection of high-quality paints for your bike, quad, jet-ski, moped or whatever you ride are available at this website - OEM-matching is what we do. With a can of aerosol (11 ounces in each), you can spray a fender, helmet or a wheel, and with two you can complete a tank or a big fairing. It'll take four or five cans to do all the panels on your bike. A spray-out (that's a test application of the color on something other than your intended subject) is essential to assure that you're getting the color you expect, and that you're applying coats as the paint requires.
When you're spraying panels and parts, it's important to remember other elements necessary to do the job right: aerosol primer (MAPRI) and aerosol clearcoats (UCA150, KK7, or KK8). Primer bonds with fiberglass, plastic and metal much better than color paint, and color paint bonds much better with cured primer than fiberglass, plastic or metal - get the picture? A clearcoat is necessary to keep that color sealed and UV-protected, and many colors won't cure right at all without a clear over them.
---
Professional Sizes (1/2 pint, pint, quart)
Designed for professional bodymen and painters, ColorRite's big cans of color are an ideal match for factory paintjobs. Designed specifically for use with the likes of Honda, Kawasaki, Ducati, BMW, Suzuki, Moto Guzzi, MV Augusta, Yamaha and Harley-Davidson, ColorRite product is available here in 1/2-pint, pint and quart sizes to address your needs. Here at colorrite.com, you can also purchase the reducer necessary for use with ColorRite paints (perfectly compatible, as are all ColorRite products).
For a fully-faired bike you'll want to pick up a quart. These paints are designed to be applied with spray equipment, and a spray-out is absolutely necessary. As with all paints, everything from atmospheric conditions to what the painter ate for lunch will have an effect on application, so testing is a must. A spray-out is a test application of the color on an object of similar consistency - if your bike will be in primered metal, test on a scrap piece of primered sheet metal. Expect to shoot two or three coats onto your vehicle, depending on the color of the color you chose to use, but be aware that the performance of the paint during spray-out could determine otherwise. With high-quality paints like these you'll need to purchase the correct reducer to make the paint work, which can be bought from colorrite.com too. The color-to-reducer combination rate is about one-to-one, varying with desired thickness of the spray-on (which is also color-specific).
With the as-instructed use of ColorRite paints, your results can exceed the quality of the OEM paintjob. The success of your handiwork depends on the application of a proper primer and clearcoat - don't forget all three steps of a proper coat of paint. The primer is essential for a quality bond with the bodywork, and without clearcoat the color won't cure. All of these are retailed by ColorRite, too.
---
ColorRite has tested all its products for compatibility with all other ColorRite products. The formula for ColorRite's primer is ideal for use with ColorRite colors, and the same goes for ColorRite colors and ColorRite clears. You can't get a better OEM match than with ColorRite products, and nothing works better with our paint than more of our paint. Remember, if you mix and match with other brands, ColorRite can't guarantee the quality of your finish, and you'll void the warranty on our products.